What happens if you hand someone a ball of clay?
On May 19 and 20, 2017, I spent two days handing people balls of clay (about the size of a ping pong ball). Each person made a sculpture from the clay and handed it back to me along with a self-addressed postcard. The postcard and the sculpture were both given the same distinct number. I would need to match them up again later.
Now I had 67 unfired clay sculptures and 67 postcards. Was the object to get the sculptures back to their makers? No. Will the maker ever find their sculpture again? Maybe.
The sculptures are fired and ready for the next phase. Each sculpture will find a unique spot to rest somewhere in New York City. Each maker will then recieve their postcard with a photograph of their sculpture in that spot. On the postcard will also be a map of the location.
Perhaps it will be there if they go look for it. Perhaps someone else will find it and take it home. Sculpture and environment. Maker and giver. Documentation and chance.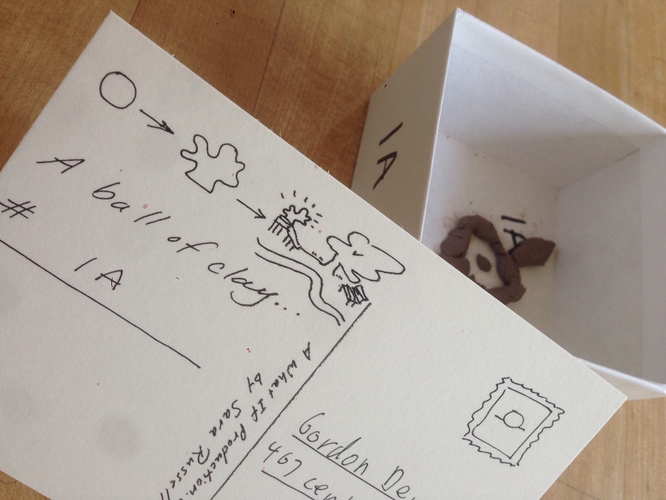 So what did people do when handed a ball of clay?
One person rolled the ball around in their hands until it was super smooth and handed back. Many people made different sculptures, some used just a bit of the clay, others the whole ball. Some sculptures are abstract, some representatonal. One person learned how to make a pinch pot.
This project unrolled at the Clemente Open Studios. I was invited to participate in the Open Studios as a guest artist by Jenn Mazza. Thank you Clemente and Jenn Mazza for giving me the space to initiate this experiment.
The 21st annual building-wide Open Studios
Each year, Artists Alliance Inc and The Clemente open their doors to the public for an intimate glimpse into the creative processes of over 40 visual artists, 11 performing arts organizations, and the residents of the LES Studio Program.
Dates - This weekend!
Friday, May 19th, from 6-9pm
Saturday, May 20th, from 2-9pm
Address:
Studio 404 - 107 Suffolk Street, New York, NY 10002 (btw Rivington & Delancey Streets) F, M, J, Z to Delancey/Essex
Presented in collaboration with
LES History Month
by Artists Alliance Inc, Clemente Soto Velez Cultural and Educational Center, and the Committee for Open Studios.